Justfog Minifit-S Plus Kit
Justfog Minifit S Plus
is powered by a built-in 650mAh battery with 12W constant wattage and Type-C charging. Designed with the LED battery indicator, it can clearly show you the battery status. It features the auto/button activation system for convenient use and multiple protections for safe use. In addition, it also features 1.9ml capacity, easy bottom filling system and 0.8Ω coil resistance.
Details:
1. Mesh coil structure for better flavor
2. Auto/button activation system
3. 0.8Ω resistance, 1.9ml capacity
4. Built-in 650mAh battery
5. LED battery indication
6. Type-C charging
7. Smart battery protection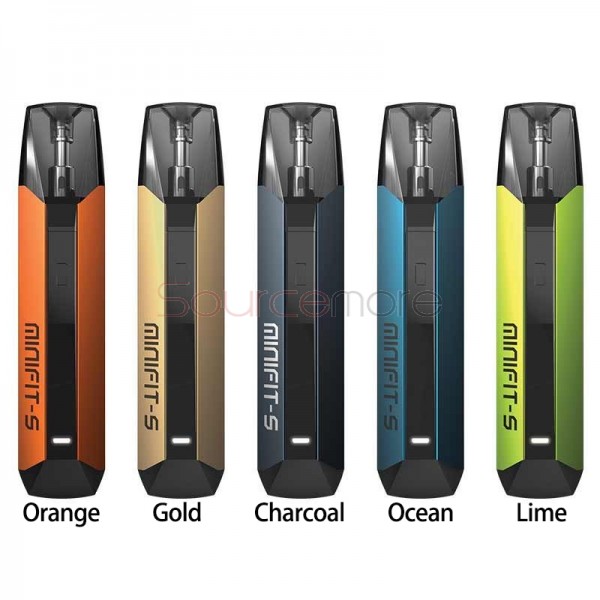 Vandy Vape Pulse AIO Mini Kit
Vandy Vape Pulse AIO Mini
is small and lightweight. It has the Lexan EXL1414T polycarbonate reinforced body, supports 18650 battery. It includes round & square button and matching panel. You can enjoy DIY funny with Vessel 2 DIY RBA Tank that holds 4.6ml capacity, you can also enjoy coil vaping with Vessel Pre-built Tank that holds 5ml capacity and is compatible with VVC coils. The Vessel 2 DIY RBA tank is designed with curved 180 degree airflow. Adopting USB Type-C, it will offer reliable power and smooth charging. Pulse AIO Mini Kit supports Wattage/Temp control/Voltage/Bypass/Smart Mode.
Details:
1. Lexan EXL1414T polycarbonate reinforced body
2. New square button and matching pane
3. Included round button, matching inner panel and round button
4. Vessel 2 DIY RBA Tank with curved 180 degree airflow
5. New airflow adjustment adaptable RBA with 4.6ml capacity
6. Vessel pre-built tank, compatible with VVC coils
7. Supports 18650 battery
8. Wattage/Temp control/Voltage/Bypass/Smart Mode
9. Small and lightweight
10. USB type-c charging
11. Safety protection: Open Circuit/Over-current/10S Cut-off/Short Circuit/Over-temperature/Low-battery Warning Protection