Vaporesso Luxe PM40 Kit
Vaporesso Luxe PM40 Kit
is a pod mod kit that is flavorful and durable with simplicity. It utilizes turbo boosting technology to produce more powerful output and keep the flavor as optimal as the first puff. Powered by 1800mAh battery capacity with 40W max power, it is enough to fit the need of all-day vaping. What's more, it features adjustable wattage and can offer you both MTL and DTL vaping style. Luxe PM40 holds 4ml e-juice capacity and features top filling design. It also allows you the accurate airflow adjustment in a wider range for restricted MTL or DL. Adopting GTX Coils, Luxe PM40 will guarantee a pure flavor without a deviation. The pod is designed with some innovative functions to avoid leakage, such as e-liquid self-circulation system, triple-silicone coil structure.
Details:
1. Turbo boosting on flavor exploration
2. Adjustable airflow and wattage
3. Adopts GTX Coils
4. Anti-leakage mechanism
5. 1800mAh high-density battery
6. Flavorful and durable with simplicity
7. 40W max power
8. E-liquid self-circulation system
9. Triple-silicone coil structure
10. Type-C 2A fast charging
11. Top filling system and visible pod
12. Pull-and-push coil replacement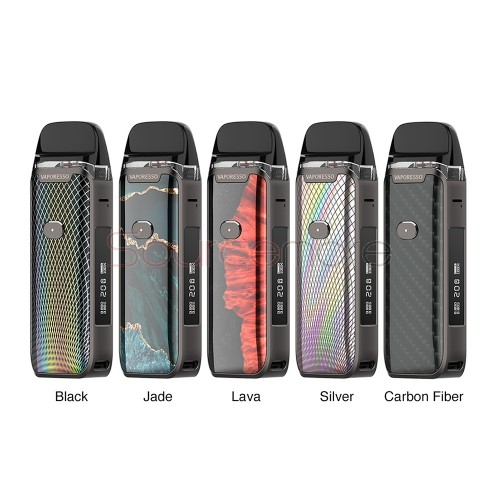 Uwell KOKO Prime Kit
Uwell KOKO Prime Kit
is a top refilling pod system kit that is known as an upgraded version of Uwell KOKO. It is compatible with Caliburn G pod and coils. There are 2 types of coil: UN2 Meshed-H 0.8ohm Coil(Slod Separately) and FeCrAl 1.0ohm Coil9(Pre-installed). Both of coils atomize e-liquid evenly and last longer. And with Uwell's exclusive patented Pro-Focs flavor testing technology, the KOKO Prime brings you pure and dense flavor. Besides, it adopts ingenious airway design to provide you with 2 different vape experience when the pod is installed in different directions. like a restricted direct to lung vape and a mouth-to-lung vape. Moreover, it supports replaceable magnetic decorative panels to add more fun to the product, which can be easily replaced. And to free your hands and pockets, it comes with a lanyard, a fashionable accessory. Last but not least, you can easily konw the working condition and battery levels with an indicator light.
Details:
1. Powered by 690mAh built-in battery and 15W max output
2. Compatible with Caliburn G pod and coils, cost-effective to use
3. Two different vape experiences when the pod is installed in different directions
4. Adopts Uwell's exclusive patented Pro-Focs flavor testing technology
5. Multiple replaceable decorative panels to meet different demands
6. Includes a lanyard to free your hands
7. 2ml e-juice capacity and top filling design