$15.79 Uwell Nunchaku RDA Kit
Nunchaku RDA Kit
is a Tube Style Mod Kit that consists of Nunchaku Mod and Nunchaku RDA. It is powered by single 18650 battery. Designed with multiple modes (Power/SS Tem/NI Tem/Bypass mode), it will match your preferred vaping style. The Nunchaku RDA is 24mm in diameter and features spacious two post build decks to provide both single and dual coils build with an adjustable airflow top cap. In addition, the Nunchaku RDA contains a bottom-feeding squonker pin for using with squonk mods. Nunchaku RDA Kit is a perfect option for vapers who prefer to fine-tune their devices for a more customized vaping experience. May you enjoy a great vaping with it!
Details:
1. Multiple work modes: Power/SS Tem/NI Tem/Bypass
2. Stainless steel and POM chassis construction
3. Oversized intuitive firing button
4. Two adjustment buttons
5. Threaded bottom battery screw
6. Micro USB charging
7. Small display screen
8. Spring loaded 510 connection
9. Stainless steel construction RDA
10. Spacious two post build deck
11. Single or dual coil configuration
12. Pro-FOCS flavor technology
13. Dual slotted airflow top cap
14. 810 wide bore delrin drip tip
15. High-temp resistance coating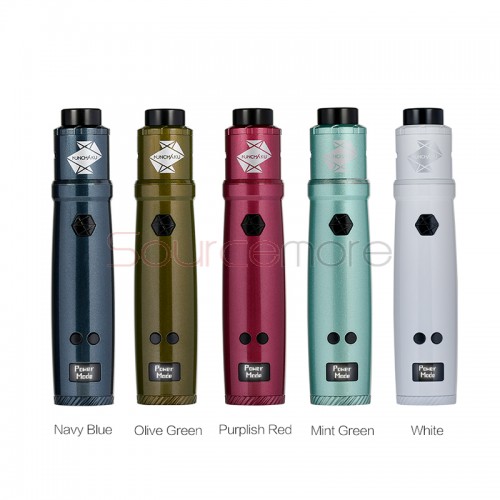 $10.59 Hcigar E-Pod Kit
E-Pod Kit
is designed with compact size and comfortable grip. Made of 304 stainless steel, it is durable and high quality. With 2ml pod cartridge and 650mAh built-in battery, it is able to guarantee your whole day vaping. And it utilizes advanced strong magnet, which features stable and reliable. Plus, it comes with comfortable fish lips design. Besides, providing multiple protections, it adopts 3.2V constant voltage output that is more matched with nicotine salt. Moreover, it adopts the double-hole for easy filling and smooth airflow. And supporting 0.8ohm mesh coil, it allows you to experience excellent MTL vaping.
Details:
1. 2ml e-juice capacity and top filling design
2. 650mAh internal battery
3. Strong and automatic connection
4. 3.2V constant voltage output
5. Fish lips design
6. 0.8ohm mesh heating coil
7. Multiple anti-leakage design
8. Made of quality and durable 304 stainless steel
9. Multiple protections: Coil Installation Reminder, Overload Protection, No Load Protection, Overtime Protection, Battery Protection, Overcharging Protection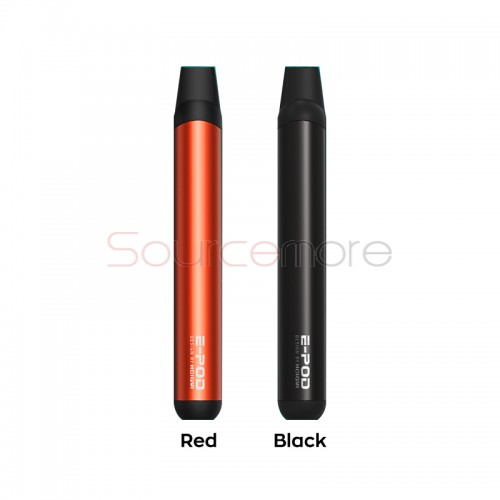 $68.99 Vaporesso Luxe II 2 Kit
Luxe II Kit
is an updated version of Vaporesso Luxe Kit, and consists of an 8ml NRG-S Tank and a 220W LUXE II Mod. It adopts IML panel, the high color saturation and transparency to bring you a visual feast and comfortable grip. As for the tank, it features 30mm in diameter, convenient and easy slide top filling design and coil replacement. In addition, it is compatible with GT mesh coils, which will bring you large and dense vapor. And the LUXE II Mod is driven by dual 18650 batteries and AXON Chip, breaking the using barrier for the entry-level users with a friendly operating system. There are 4 modes available: Pulse Mode, Power ECO Mode, Smart TC Mode and DIY Mode. The Pulse Mode can boost the inhalation every 0.02s to satisfy you with consistent performance. Plus, equipped with an upgraded user-friendly UI and the breath-taking 2.0-inch TFT color screen, LUXE II is designed for both functionality and visual esthetics. Moreover, there are multiple protections to guarantee your health and safety.
Details:
1. Equipped with the transformative AXON chip and a thoroughly upgraded UI
2. 220W max output power and constant Pulse Mode
3. 8ml NRG-S tank with GT mesh coils
4. Eye-catching 2.0-inch TFT color screen and customizable UI
5. Convenient and easy slide top filling design and coil replacement
6. IML panel for a visual feast
7. Powered by dual 18650 batteries
8. Multiple protections: Overtime Protection, Overheat Protection, Short Circuit Protection, USB Input Protection, No Load Protection, Low Battery Protection, Low Resistance Protection