$16.69-Advken Manta Tank
Manta Tank
is 24mm sub-ohm tank with beautiful honeycomb design. It has large 4.5ml e-liquid capacity with the sliding top cap filling and adjustable bottom airflow design. The included 0.16ohm and 0.2ohm Mesh Coil will bring you great flavor and huge clouds. 7 colors are available: Red, SS, Black, Blue, Gold, Purple, Rainbow.
Details:
1. Sliding top filling design
2. Come with 0.16ohm/0.2ohm mesh coil
3. Resin glass tube and 810 resin tip
4. 4.5ml e-juice capacity
5. Bottom air-flow control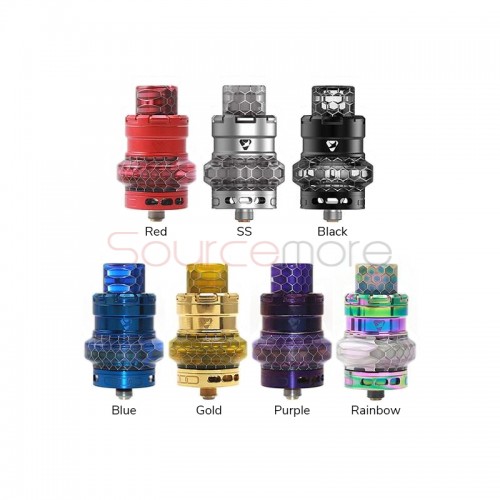 $11.59-Vaporesso NRG PE Tank
Vaporesso NRG PE Tank
is the latest sub-ohm tank. Featuring 3.5ml e-juice capacity and 25mm diameter. With the 0.15ohm GT4 Meshed Coil (50-75W), 0.5ohm GT CCELL Coil (25-35W). The upgraded GT4 Meshed coil brings dual meshed cores to increase contact area giving denser more flavorful clouds. Available in Black, Silver, Red, Blue.
Vapor Storm Puma Baby Mod
Details:
1. Upgraded GT4 Meshed coil brings dual meshed cores to increase contact area giving denser more flavorful clouds
2. Compatible with All GT series coil
3. Maximum tank diameter increased to 25mm