VOOPOO VINCI 2 Kit
VOOPOO VINCI 2 Kit
is the newest Pod Mod Kit of VINCI Series. The Mod adopts "single grain, single coating" process to provide wear-proof, anti-shock, oil-proof, dust-proof and fingerprint-proof. It also incorporates 3D heat bending technology, which can enhance its durability. The built-in 1500mAh battery can charge up quickly via the Type-C port. VINCI 2 Kit adopts an upgraded Gene.AI 2.0 chip, the power can up to 50W. It supplies dual UI screen, puff record, VW/SMART/RBA Mode to satisfy your vaping needs. VINCI 2 Pod features 6.5ml capacity. The innovative infinite airflow system supports the regulation of any size of airway. Compatible with all PnP Series coil, VINCI 2 would bring massive clouds and MTL/RDL experience.
Details:
1. 3D heat bending technology, durable Zinc Alloy & PCTG frame
2. Built-in 1500mAh battery, 50W max output power
3. Newest Gene.AI 2.0 Chip
4. Dual UI screen, puff record, VW/SMART/RBA Mode
5. Innovative infinite airflow, MTL/RDL vaping
6. 6.5ml transparent Pod, leak-proof system
7. 1.08" TFT Color Screen shows vaping data
8. Compatible with all PnP Coils
9. Sensitive auto/manual modes
10. Multiple protections: Overtime/Short-circuit/Overcharge/Output Over-current/Over Discharge/Max Power/Battery Reverse Protection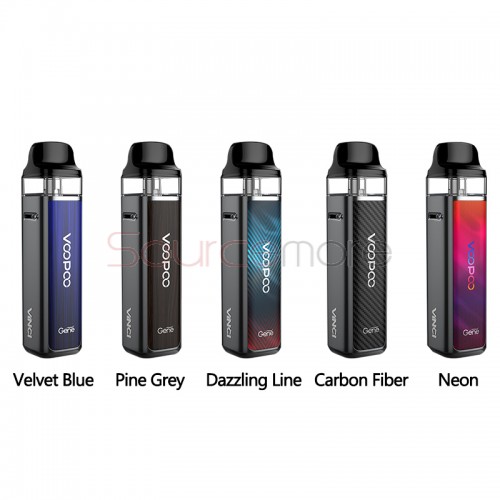 VINCI X 2 Kit
VOOPOO VINCI X 2 Kit
has greatly improved the feel and comfort to meet your requirements for dense smoke. More details are designed to bring a brand new grip experience. It is good-looking, durable and comes with some great function to offer you good experience: oil-proof, dust-proof, fingerprint-proof, wear-proof and anti-shock. It is powered by single 18650 battery and comes with type-c charging, which will let you enjoy the time without worry. VINCI X 2 Kit is equipped with two different styles UI themes and a 1.08 inch TFT color screen for the different styles. Powered by the new GENE AI 2.0 chip, it has powerful functions and the highest output power is up to 80W. VINCI X 2 not only supports Smart mode which beginners are accustomed, but also supports the RBA mode which vapers love. With the innovative infinite airflow system, you can obtain various flavor. The VINCI X 2 Pod can hold 6.5ml e-juice and is compatible with all PnP Coils.
Details:
1. Single 18650 battery, 5-80W output range
2. Infinite airflow system, SMART, RBA Modes
3. Dual different styles UI themes, 1.08 inch TFT color screen
4. The new GENE.AI 2.0 chip brings powerful function
5. Compatible with all PnP Coils
6. Oil-proof, dust-proof and fingerprint proof, wear-proof and anti-shock
7. Type-c 5V/2A quick charging
8. Multiple protection: Overtime/Short-circuit/Overcharge/Output Over-current/Over Discharge/Battery Reverse/Max Power Protection